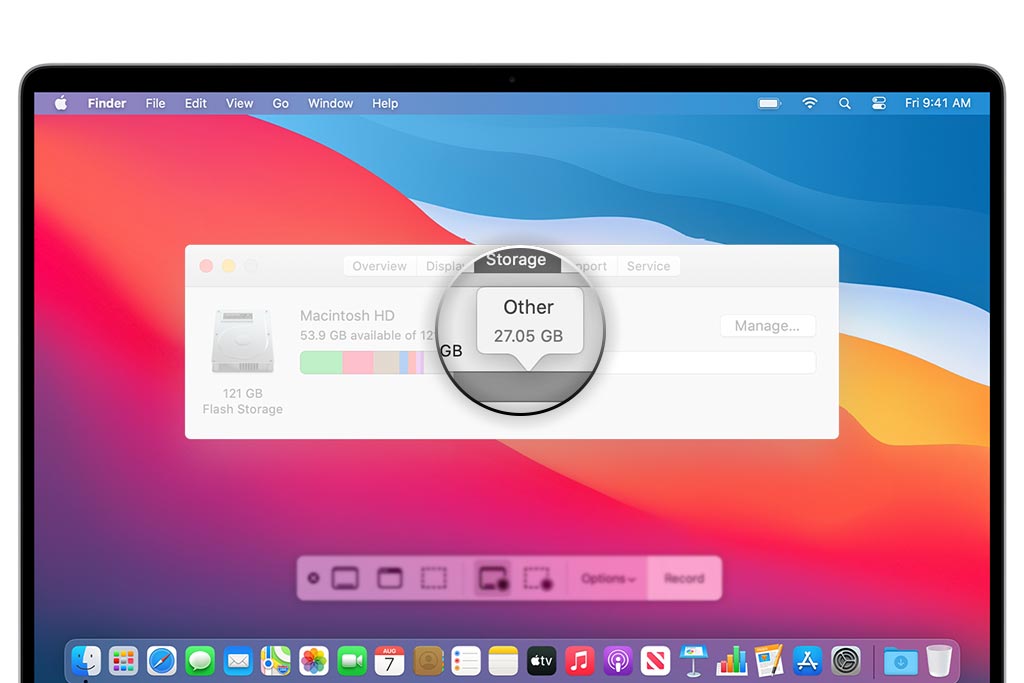 06 Feb

What is Other on Mac Storage and How to Clean it Up

No one wants to get stuck with a speed issues on their Mac. But the problem is many times, when you think you've already dumped plenty of clutter in to trash icon of your Mac, you still keep seeing an error message saying, "Your startup disk is full."

You certainly don't want to see this error message again. So, what can you do now? With all the prominent documents, movies, media, app, and other data deleted, what else can you do away with?

Here's an easy solution. Clean up the 'Other' storage on your Mac's disk to speed up the system again. You can use Mac Optimizer Pro to clean up all storage disks including 'Other' storage to conveniently and safely do this task. Alternatively, you can also clear 'Other' storage space on your Mac by yourself, i.e. manually. Here's the complete tutorial.
What is 'Other' Storage on Mac?
Simply put, 'Other' storage on your Mac is nothing but the files and data that is not straight-forwardly falls into a prominent category, viz. music, audio, video, apps, mail, document, etc. To have more understanding, see the system cache, plugins, extensions, log entries, cache, voice files, .dmg and .zip drive images, and some other.
This storage takes much space on your Mac and you can free up a large space by doing away with this data.
How to Clear Other Storage on Mac
Delete Documents on Other Disk Space
When you don't clean up your Documents folder frequently, it starts to flood with small to heavy files ultimately creating huge junk on your Mac. You can free up Other disk space by removing this junk in this way:
When on your Mac's desktop, press Command + F on the keyboard
Select This Mac
When the drop down menu appears, click on the first option from the top
Click Other
Select File Size and File Extension on the Search Attributes window
Enter different document extensions such as .pages, .csv, .pdf, etc. and see which file sizes to get rid of
Remove the ones not needed
Remove Temporary Files in Other Disk
The log entries that Mac keeps on creating frequently are the ones which get stored in the Other storage. When they are too many in number, your Mac starts to slow down. You can delete these temporary files to free up Other disk space on your Mac.
Got to Finder > Go > Go to Folder
Enter ~/Library
Choose the Application Support folder
Check and remove the files you want
Remove Cache in the 'Other' Storage
Caches are the files that your system generates when you open an app, do a task, or visit a website, etc. These files make it easy and fast for you to reload a page or software. However, this data keeps piling up and it makes the performance of your Mac poor. Here's how to clear up cache on your Mac:
Open Finder > Go > Go To Folder.
Enter ~/Library/Caches
Hit Go
Choose your desired files inside the folder
Drag them to Trash
Empty Trash
Delete Extensions and Plugins in Other Disk
These plugins and extensions take up space on your disk and make the system slow. Here, we give a tutorial to delete this data from different browsers.
Delete Extensions in Chrome
Go to the three dot button
Select More Tools > Extensions
Deactivate the ones you want
Delete Extensions in Safari
Select Preferences
Go to Extensions
Un-tick "Enable"
Hit "Uninstall" to remove the ones you want
Delete Extensions in Firefox
Go to the burger menu
Select Add-ons
Go to plugins and extensions tabs one by one and deactivate/remove the ones you want
Remove Disk Archives and Images in Other Storage
You can free up 'Other' storage by deleting unnecessary .dmg and .zip files. Here's how you can do it using Spotlight
Launch Finder and enter DMG/ZIP in the given field
Click This Mac
Review the items by size and delete the ones you don't want
Conclusion
You can save your time by automatically cleaning up the 'Other' storage on your Mac by using Mac Optimizer Pro. It runs in the background and keeps removing all the faulty items that slow down your Mac.